What is a VoIP phone ?   
En IP-telefon er en digital enhed, der bruger Internet Protocol (IP) teknologi til at lave og modtage telefonopkald. En IP-telefon digitalisere en opkalders stemme som derefter videresendes til modtageren.
A VoIP phone can call any other phone, whether you want to call a traditional phone (i.e., an analog phone), a virtual phone, or a cellular phone. Unlike an analog phone, a VoIP phone requires a broadband connection to work correctly. Fortunately, a VoIP phone can use wifi, a cellular connection, and other kinds of Internet connections.
Hvordan virker en IP telefon ?
Har du nogensinde tænkt på hvad der sker når du bruger IP tjenesteudbyder til at lave IP telefoni opkald ? Der er flere måder hvordan du kan lave IP telefoni opkald.
1) You use a VoIP phone to enter a phone number into the dial pad and then start your call. As the end caller, there are no special hardware requirements for making VoIP calls. For example, you can make calls using your laptop, use an app on your smartphone or purchase a dedicated VoIP handset.
2) IP tjenesteudbyderen modtager opkaldsanmodningen og forbinder dig til verdens telefonnetværk ved hjælp af internetteknologi. En IP tjenesteudbyder kan forbinde dig med næsten enhver anden telefontjeneste (f.eks. En analog telefon, en virksomhedstelefon eller en IP-telefon).
3) Når dine IP-telefoni opkald er forbundet, omdannes de lydbølger, du laver, til digitale signaler. De bliver hurtigt sendt over internettet og konverteres tilbage til lyd. Processen er den samme for modtageren af opkaldet.
Anmærk, at du skal bruge en pålidelig internetforbindelse for at din IP telefontjeneste kan fungere korrekt. Hvis du bor i et område uden en pålidelig internetforbindelse, er det måske nødvendigt at have en mobiltelefon eller en almindelig telefon som backup.
A software for streamlined VoIP calling
LiveAgent's virtual call center solution includes VoIP phone support as part of our call center services.
Hvilke slags IP telefoner are disponibel ?
There are multiple types of VoIP telephones you can use depending on your budget and preferences. You may be able to use multiple types of VoIP phones (e.g., a business phone for your office and a mobile device when you are traveling).
Her er de mest almindelige slags IP telefoner
Also known as a physical phone, a hard phone is a physical device you can put on your desk to make VoIP phone calls. It will probably have a physical dial pad and additional features to help you manage incoming calls through your broadband Internet connection.
Softphones are an excellent choice for a business owner that wants to minimize clutter and maximize flexibility. Instead of a physical device with a dial pad, a softphone is an app you can run on your laptop or mobile device. Since there is no special hardware to buy, the best softphones can deliver additional cost savings.
This type of VoIP phone is an app that you run on a mobile device or computer. For example, you can download the Skype app to your computer or smartphone to make calls. You might decide to buy a headset that connects to your computer's USB port for added comfort.
Several kinds of mobile devices can be used for making VoIP calls. For example, almost all modern Android and Apple mobile phone models can run VoIP software. Therefore, you can make calls from a tablet or smartphone.
A VoIP business phone is commonly fixed to a specific location like a manager's office (also known as a desk phone). It may offer advanced features like conference calls, voicemail, and a virtual receptionist that are not common with a regular phone. If you choose an all-in-one business phone system, you may access advanced capabilities like HD audio, international calling plans, and reliable video conferencing.
When most people look for a regular phone, they mean a traditional landline used mainly for making analog phone calls. Each phone call is then transmitted using non-digital technology (i.e., analog signals). While a regular phone lacks the additional capabilities commonly found in modern phones, it is a good choice if you lack a reliable network connection. However, you might not know that you can use a VoIP adapter to connect your analog phone to a VoIP service provider. A seller or manufacturer can verify the capabilities of your regular phone in a case like this. 
Maximize the efficiency of your business
LiveAgent offers over 50 integrations with leading VoIP service providers.
Hvad er funktionerne i en IP-telefon ?
De bestemte funktioner, som hver IP-telefoni udbyder tilbyder, varierer betydeligt. For enkelheds skyld kan du skelne mellem grundlæggende funktioner (dvs. standardfunktioner, der er fælles for næsten alle IP telefoner) og mere avancerede funktioner, der giver dig flere kommunikationsmuligheder.
Basic Features. VoIP technology at its most basic gives you the ability to make calls and receive incoming calls. Generally speaking, you can call traditional landline phones, mobile phones, and other VoIP phones. By using the dial pad, you can enter a phone number and start your call quickly.
Advanced features. Also known as additional features, a business VoIP service may include HD voice quality. Other popular advanced features include a video conferencing solution, security features (e.g., 256-bit advanced encryption standard), and the ability to support a call center.
Hvis du vil have yderligere funktioner, skal du kontakte salgsteamet fra IP tjenesteudbyderen. For et ekstra gebyr kan du I mange tilfælde købe adgang til en bred vifte af funktioner. Især kan der opkræves ekstra gebyrer hvis du ønsker avancerede funktioner (dvs. et forenet kommunikationssystem til en stor virksomhed).
Fully stacked customer service software
Discover all the features that make LiveAgent a powerful multi-channel help desk solution.
Hvad er fordelene ved at bruge et IP telefonsystem?
Antaget at du har en pålidelig internetforbindelse, har IP telefoner flere fordele som du skal forstå før du siger farvel til traditionelle fastnettelefoner.
Business owners know that many employees want to be able to work remotely. Eliminating your conventional phones and switching to a cloud-based phone system is an excellent way to save space. Instead of having physical phones on every desk, employees can make VoIP phone calls using their laptops or mobile devices.
For many people, the opportunity to save money by switching to VoIP is attractive. In particular, business owners paying for multiple phone lines and long-distance service may see a significant cost savings advantage.
As a business owner, you need fast support. Unfortunately, the companies that provide landline phones often force customers to wait a long time for service. Customers are less likely to experience disappointing service when businesses use VoIP services. Even more so when combined with other communication channels.
Business owners with employees in multiple locations (e.g., a call center, a field sales team, etc.) need a flexible phone service. An advanced call center system hosted on the cloud typically includes IVR (Interactive Voice Response), automatic callback, video calling, unlimited call recording, and VoIP integration.
LiveAgent | Call center software in your helpdesk | Live Agent02:03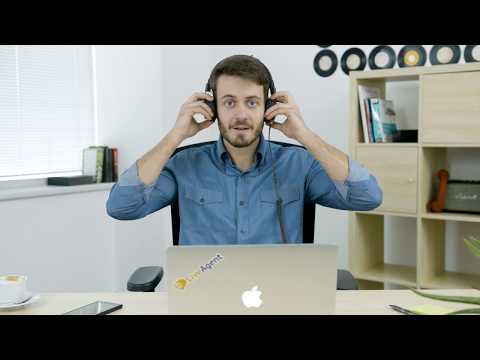 Live Agent
A single interface for managing customer queries
Sign up for a free 30-day trial and start improving your customer service today.
Frequently Asked Questions
What is a VoIP phone?

A VoIP phone uses IP networks and digital signals to transmit and receive phone calls to anybody, whether they have a traditional phone, cell phone, or virtual phone.

How does a VoIP phone work?

A VoIP phone call involves several elements that the VoIP service provider handles. You enter a phone number into the dial pad. Automatically, VoIP phone systems connect you to the person you are calling. Your conversation is then transmitted back and forth using digital signals.

What types of VoIP phones are available?

There are several types of VoIP phones. Softphones let you make VoIP phone calls through your laptop or mobile device. Hardphones are a kind of physical device you can put on your desk. Each VoIP provider offers different kinds of VoIP phones.

What are the features of a VoIP phone?

The features of a VoIP phone vary depending on the model and VoIP service. In general, you can expect to receive incoming calls and make calls. In some cases, you might have nationwide calling, video conferencing, and other features.

What are the benefits of using a VoIP phone system?

There are several advantages of VoIP phones to keep in mind. Usually, you can achieve cost savings compared to traditional phones. In addition, you can save space by eliminating your desk phones if you wish. Finally, VoIP phones are fast and flexible – you can easily add more phone lines as needed.
Expert note
IP-telefoner har revolutioneret måden, hvorpå vi kommunikerer og interagerer med hinanden på tværs af verden. Det er en pålidelig og økonomisk løsning, der reducerer omkostningerne og skaber mere effektive arbejdsprocesser.

Andrej Saxon
Sales manager