What is VoIP call recording?
In simple terms, VoIP call recording means making a recording of the VoIP phone calls. The recording can be saved in formats like MP3 audio. You can then use a service like Rev.com to transcribe the VoIP call recording into text.
There are two ways to approach VoIP call recording depending on your VoIP (Voice over Internet Protocol) technology and company policy.
Manual VoIP call recording
A manual approach means an employee decides whether or not to record their VoIP calls by pressing a record button. This option is a good approach if you want to ask permission in each call before turning on VoIP call recording.
Automatic call recording
Some companies choose to record all VoIP phone calls (i.e., both inbound and outbound calls). To set expectations with customers, the phone system usually tells customers in advance that incoming calls will be recorded for "training purposes." Managers sometimes use an automatic call recording solution to solve customer disputes as well.
How to set up VoIP call recording
The process of setting up VoIP call recording varies depending on the specific technology you use. Use the following set of steps to get started.
Determine your VoIP call recording needs
Recording calls uses digital storage space, and some customers may not consent to phone call recording. Therefore, it is prudent to develop company guidelines when and how calls will be recorded.
Check for recording features in VoIP platforms
Your next step is to check for the specific recording features available in VoIP platforms. For example, if you plan to record a large number of VoIP calls, check to see which VoIP platforms support large numbers of recordings and how much you will pay for call recordings.
Verify the laptop compatibility
Most VoIP providers offer a recording solution for VoIP users on a laptop device.
See if your device is supported
Contact your VoIP provider to find out if they support mobile devices. For example, if your employees like to use Android phones, then check for Android VoIP support. To verify the quality of the VoIP solution, check to see what actual customers say about using the recording solution. For example, look up the VoIP service provider on TrustPilot or Capterra and see what people say about their VoIP apps.
Setting up VoIP call recording
At this stage, you need to verify the audio quality of the recording solution. To verify the audio quality, run a series of quality control tests where one employee simulates customer calls to the sales team (i.e., incoming calls). Likewise, test if outgoing calls are appropriately recorded.
No limit on the number of recordings
LiveAgent offers unlimited call recordings that can be safely stored in your account.
Can you record a call with a company?
Before you use a recording solution on your calls, there are some rules to keep in mind.
All Parties Call Recording Consent
According to HubSpot, thirteen US states, including California, Connecticut, Delaware, Florida, and Montana, require all parties to consent before a call can be recorded. If you mainly call people in these states, make sure you ask for permission before recording calls. Outside of the US, several other countries also require everybody to consent. If you are recording calls with people in Canada, Germany, and Europe, make sure you get permission.
Some US states like Alabama, Alaska, and Colorado permit call recording if one party agrees to the call recording.
As a general rule of thumb, it is best to ask for permission before recording a phone conversation. If you do not obtain permission, your company may lose its reputation for excellent customer service.
Do you have to tell customers calls are recorded?
Each company has a different approach to setting customer expectations for call recording. Generally speaking, there are two approaches.
As inbound calls come in, a recording stored in the IVR menu tells customers that calls are recorded for training purposes. By providing notice in each call, you set customer expectations in each situation.
The alternate approach is to ask your employees, including sales reps and customer service teams, to ask permission before recording each call.
Access control becomes essential if you are recording calls for multiple purposes (e.g., training purposes, providing industry insights to the marketing team). Customer calls often include sensitive information like customer name, address, phone number, and credit card. Make sure you protect your VoIP recorder with passwords and other security measures.
Benefits of VoIP call recording for businesses
There are multiple benefits you can achieve from using a VoIP recorder. In this section, we'll go over the most common ones.
Training purposes
By recording customer disputes on a call, you can provide real-world customer service training to employees. A recording of a customer service agent call can reveal valuable insight on how to solve problems. By the way, you can also gain valuable insights for sales rep training.
Sales insights
Each call with your company's sales reps may be full of customer stories and actionable insights. For instance, you might notice that referencing specific details from previous conversations helps create a positive impression on the customer. Use customer relationship management (CRM) for actionable insights, history overview, and other relevant opportunity and current status details after each sales call.
Marketing insights
The marketing team might not meet actual customers very often. Therefore, it is helpful to give the marketing team access to call recordings to base their marketing on accurate insight from customers.
Using call recordings in your ongoing training and coaching program is an excellent management tool. Reviewing a few call recordings is crucial when a manager sits down to evaluate customer service agent performance. If there are significant problems, you can arrange for additional training, like asking the agent to download highly rated customer calls recordings.
Choose a VoIP partner
LiveAgent currently hosts over 50 integrations with leading VoIP providers.
How can I prevent someone from recording my telephone calls?
Using a VoIP recorder brings benefits, but not every customer likes to have their call recorded. That's why flexibility in a VoIP recorder solution is essential. Before you buy a VoIP recording unit for your company, check for the following capabilities.
Disable automatic call recording
Some VoIP vendors give you the option to turn off automatic call recording. While recorded VoIP calls are valuable, maintaining excellent customer service is even more critical. When actual customers ask you to stop recording, aim to accommodate their request.
Offer an alternative
If a customer is uncomfortable with a call recording, offer alternatives. For example, a business owner might direct their sales reps to refer customers to an online chat service or send an email.
Active VoIP recording flexibility
Active VoIP recording involves making a copy of the audio of the phone conversation for storage elsewhere. Check to see if your VoIP service provider lets you turn off this feature.
Ultimately, you can refuse to participate in a phone conversation if you do not record the call. Most companies are motivated to maintain a high level of customer experience. If the idea of recording calls makes you uncomfortable, check to see if the company will help you in a different way, such as by email.
All-in-one customer software
Sign up for a free 30-day trial and discover all that LiveAgent has to offer.
Watch a video about how call recording works in a VoIP system
Call recording in a VoIP (Voice over Internet Protocol) system involves the capturing and storage of audio data during phone conversations. In a traditional telephony system, call recording typically occurs through hardware-based solutions connected to the telephone lines. However, in a VoIP system, the process is more integrated and software-based.
Through the VoIP integration, LiveAgent can use the underlying VoIP infrastructure to handle and manage phone calls. This integration typically involves configuring the VoIP system with LiveAgent's settings and credentials. Once the integration is established, LiveAgent can access the VoIP system's call recording capabilities, allowing call center agents to record and retrieve call recordings directly within the LiveAgent software interface.
How Does Call Recording Work in a VoIP System? | Nextiva02:47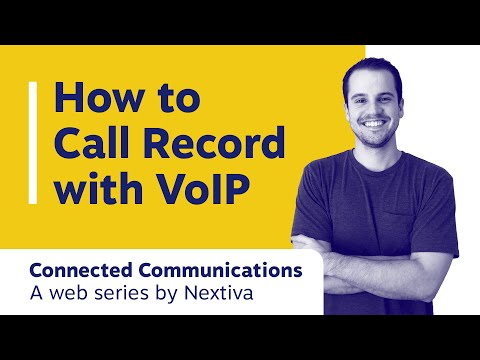 Nextiva
Topics
Opkaldsoptagelse til træning af team og forbedring af kundeoplevelse
Pålidelig metode til optagelse af telefonopkald
Forskellige optagelsesmuligheder på Nextivas platform
Video summary
I denne video vil vi tale om, hvordan opkaldsoptagelse kan hjælpe dig med at træne dit team, samtidig med at du forbedrer den overordnede kundeoplevelse. Opkaldsoptagelse sikrer en pålidelig metode til at optage telefonsamtaler i skyen, hvilket er blevet mere tilgængeligt for små virksomheder. Det hjælper også med at skabe ansvarlighed for mundtlige forpligtelser ogkan bruges til træning og kvalitetssikring af salgs-, support- og servicehold. Der er forskellige optagelsesmuligheder at vælge imellem på Nextivas platform.
Frequently Asked Questions
What is VoIP call recording?

VoIP call recording is the practice of recording business phone calls, including conference calls in some cases, to improve company performance. You might use call recordings to solve customer disputes, improve customer service rep performance and other calls.

How to set up VoIP call recording?

The specific steps to set up VoIP call recording vary depending on the VoIP call recorder solution you have in place. For example, you might have the option to manually record specific calls or automatically record all business phone calls to your company.

Can you record a call with a company?

Most US states and countries around the world allow calls to be recorded with VoIP call recording software. However, make sure you ask permission before recording business phone calls.

Do you have to tell customers calls are recorded?

In general, it is recommended to advise customers that all of your business phone calls are recorded. For legal advice on this topic, please consult a qualified legal professional.

What are the benefits of VoIP call recording for businesses?

There are multiple benefits to recording VoIP calls. For example, you can use call recordings to extract customer stories. These customer stories can then be used in sales rep training and marketing campaigns. Furthermore, recorded business phone calls are valuable to support customer service training.

How do I stop someone from recording my calls?

Start by asking the company to stop recording your call. If the company insists that they must have phone recordings, consider hanging up on the call. In this situation, contacting the company in person or by email might be a better solution.
Expert note
Jeg mener, at IP-telefoni opkaldsoptagelse er en vigtig funktion for virksomheder, da det ikke kun kan hjælpe med at forbedre kundeservice, men også kan være afgørende i juridiske eller forretningsmæssige situationer.

Andrej Saxon
Sales manager
[urlslab-related-resources related-count="4" show-image="true" show-summary="true"]